Craft With Conscience
A weekly series of featured artist interviews discussing inspirations, design process, and being creative in the internet-age.
Craft With Confidence: Market Manual
Over the past 6 years of creative self employment I have participated in countless craft fairs of all sizes and locales and I want to share some of that experience with you!
Participating in markets doesn't have to feel overwhelming and exhausting. Let me help you come in with a plan so that you can maintain your sanity and set yourself up for a successful experience.
Lise Silva is an artist living in Oakland, CA, working from her studio in Berkeley. Strongly influenced by meditation, mysticism, classic film, psychedelic illustration, surrealism, and art deco design, her obsessions include: dream sequences, secrets, waking, sleeping, dreaming, and the fourth state. She explores the power of symbols through her work with Sacred Knots creating fiber jewelry and wallhangings with handmade cord entwined in knot designs that serve as a metaphor for life experiences, dreams, and deep desires. Through her artwear she loves creating custom pieces for weddings and other ceremonial events. She has taught traditional knotting techniques through in-person workshops and created an instructional booklet on knotting called Knot: A Book. As an extension of Lise's exploration in symbology, meditation and visualization are a tool in her creative process. She leads guided meditations as a tool for manifestation, lucid dreaming, mental/emotional balance, creativity and relaxation.
Raven K. Dock is a self-taught fiber artist based in the finicky weathered state of Florida who experiments with traditional stitches and cross stitch to transform her photographed subjects into texturized portraitures ranging for a multitude of sizes; from miniature to palm size with many possibilities in between. With hopes of exhibiting and selling her portraits, and soon to be prints, Raven continues to express ambiguity of emotion, one eye-less portrait at a time.
Shyama Golden's paintings lie strategically between the cute and uncanny, inviting the viewer to discover new details through multiple viewings. They are influenced by her scientist parents and childhood exposure to Buddhist philosophy. Her work has been published by The New York Times, The Atlantic, Wired, Washington Post, Chronicle Books, and Penguin Random House. She has a BFA from Texas Tech University and is based in Brooklyn, NY. She has an upcoming duo show with artist Mimi O Chun on Friday Nov. 30th, 6pm, at 198 Allen St. NY, NY.
Mijo Studio is a forward thinking Danish-Norwegian design duo formed by Miranda Tengs Brun and Josefine Gilbert. Specializing in prints, patterns and textiles they experiment with colours and textures. Their work always starts by hand and is characterised by their curious and playful approach to the creative process. The Scandinavian duo design dynamic prints, patterns and creative solutions for experimental projects and exhibitions as well as commercial collaborations.
Kate Tume of Mother Eagle
Kate Tume aka Mother Eagle is an embroidery artist from Brighton, UK. Self taught, she'd been practising embroidery almost her whole life before turning professional artist 10 years ago. Kate combines a variety of techniques in her work, often 3-dimensional, embellishments and goldwork feature heavily. Her work is influenced by folklore, mythology and burial customs, and she is currently working on projects around our disappearing world, and lost species. Kate also teaches textile arts privately, and has just launched the first design in a series of embroidery kits called 'Mother Eagle Textile Art Boxes'.
Emma Duehr of Talking Tushies
TRIGGER WARNING: This interview contains graphic statics and content about sexual violence.
"Talking Tushies" is a social project by Emma Duehr aiming to discourage future inappropriate or violent actions perpetrated by men in the United States. By creating embroidered patches for the back pocket of women's pants with sexual assault statistics embroidered upon them Duehr hopes to spread awareness of the problems that many women face on a daily basis. Duehr believes that wearing "Talking Tushies" will make a difference in some men's behavior by educating the unaware on the horrifying statistics of sexual violence and misconduct in the U.S. Every time a statistic patch is spotted, she hopes to help save a woman in this country from future sexual harassment. "Talking Tushies" was created to empower women to walk fearlessly and with confidence.
GRACIE ELLISON-SHORTRIDGE
Gracie Ellison, born and raised in Portland, Oregon, has been illustrating faces her whole life; painting portraits on canvas for only a few years. She has no formal training or education, her art has always been instinctual for her and learned through years of studying the art surrounding her. Gracie almost exclusively paints busts of surly faced women; within that realm she likes to explore with color, patterns, texture, and imperfections. While her creative process is somewhat whimsical, Gracie strives for her subjects to be commanding and impactful.
Gabriela Martínez Ortiz of Ofelia y Antelmo
Named after her maternal grandparents, Gabriela is the textile artist behind Ofelia & Antelmo, a proposal based on two joint formats: Textile art and Wearable Art. Its visual approach is the result of the exploration of organic textures by the repetition of patterns that invites the viewer to stop, slow down and contemplate. She applies traditional textile techniques – especially hand embroidery– and transforms it into contemporary pieces. Her work pays special attention in the manufacturing times to rethink the way we consume as a protest to the speed of the XXI century. Ofelia & Antelmo embraces the fair time that the artisanal processes demand.
Yiyi Mendoza is a ceramic artist raised in California and currently working in Upstate New York. Interested in the connections that objects can provide for us, Yiyi makes functional and decorative ceramic objects that elevate spaces and rituals. Her work is a reminder that objects hold life, beauty and purpose. Inspired by ancient cultures, architecture and the cosmos, her forms are intended to endure as relics of this time.
MARIANA BAERTL of LIVING FIBERS
" Hi! My name is Mariana Baertl and I'm the creator and artist behind Living Fibers. I was born and raised in Lima, Peru's capital, surrounded by the countries' traditional handmade trades, specially textile work.
I studied Fashion Design in Peru and later moved to Buenos Aires, Argentina to focus on Coolhunting, the study of "trends" and how it relates specifically to the fashion industry. I then moved to Barcelona, Spain to begin my work in Haute Couture and pattern making. My Haute Couture education taught me the level of patience and precision needed in creating handmade designs. Thereafter I got a post graduate degree in Fashion Business management from Pompeu Fabra University, in Barcelona. As soon as I graduated, I moved back to Lima, Peru to work as a fashion designer for a large retailer in Lima. It was at this company where I started experimenting with textures and textiles. I was soon in love with the art and began making fiber art pieces whenever I could find the time. After several years as a fashion designer, I decided to make a change and immerse myself into the fiber world."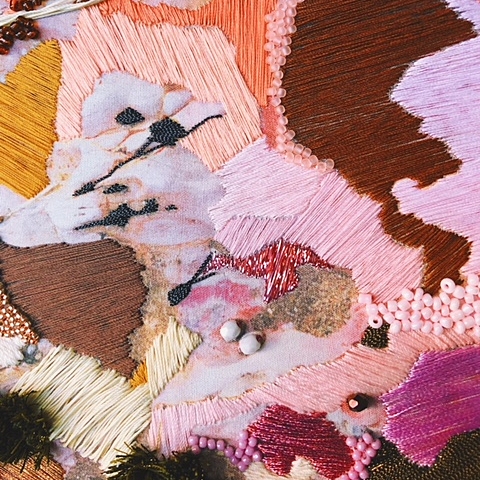 Emily Wright of Salt Stitches
Emily creates abstract embroidery works with a strong focus on natural textures. Her work to date is inspired by the rugged coastline of North Wales, UK. Her works are a direct response to her photography, focusing on geological variations and plant life found near the sea.
Corrie Beth Hogg + DIY Tutorial
Corrie Beth Hogg is a lifelong maker. She is currently crafting realistic plants out of paper, and has recently published a book on the subject entitled, Handmade Houseplants: Remarkably Realistic Plants You Can Make with Paper. Corrie has long been inspired by nature, from growing up near a national park to a season spent working the fields at an organic farm, she has always strived to integrate the natural world into her creative process. She studies plants, interpreting their visual signatures and details into digestible, clear steps, showing those with even the blackest of thumbs how to recreate them with paper.
Adipocere, a self-taught hand embroidery artist, primarily creates their imagery for the therapeutic catharsis evoked through the medium. Their work focuses on displaying what they refer to as emotional self-portraiture while operating within the confines of a constantly developing, overarching fiction, one with small roots in reality but using motifs and symbolism to delineate concepts such as martyrdom, asceticism, existentialism, and the eventuality of death. Adipocere is inspired by their environmental science studies, focusing on misrepresented fauna and the point at which humanity intersects.
Alison Rachel built Recipes for Self Love as an attempt to cut through the excessive damaging media we are exposed to every day and shine light on truths that we all somewhere, somehow know and feel but have perhaps forgotten.
Vanessa believes in an upcycling effort towards the fight against the negative environmental effects perpetuated by the textile industry. All of the materials she uses come from the dead-stock from local factories which is first cleaned and then selected to recycle and reuse in her projects. Her productions are completely artisanal and handmade using ancestral techniques, like latch hook, felt, knitting, macrame and crochet, to create her artworks inspired by the coral reefs.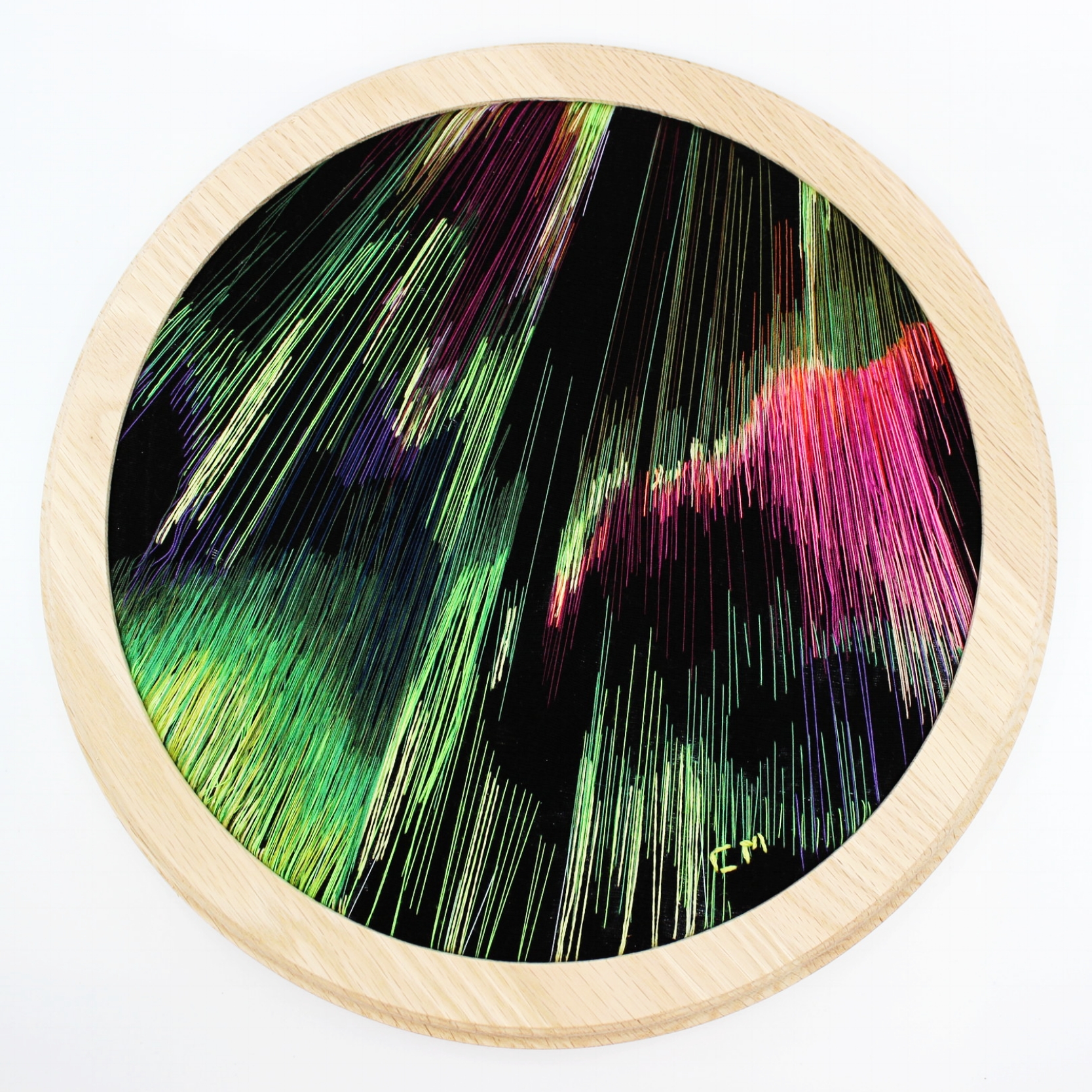 Carmen Mardónez is a Chilean artist currently living in Los Angeles, California. Her work is focused on exploring how to convey movement, color, and lights through hand embroidery, finding inspiration in Northern Lights, and Telescope captures. In Chile, she worked as volunteer and professional in prisons and local governments, whereas her artwork was a personal search. Since arriving in Los Angeles, she is completely dedicated to embroidery.
Justyna Wołodkiewicz is a Polish artist specializing in 3 dimensional embroidery. Taking inspiration from her surroundings as well as a strong awareness of her own creative process, she uses vibrant colors and breadth of contrasting textures and shapes to create a finished piece that is both technically complicated and incredibly whimsical.
Erin Dollar of Cotton & Flax
Erin Dollar is a textile and surface pattern designer who specializes in minimalist geometric designs. Her artwork is screen printed onto natural fabrics like linen and wool to create modern home goods that are handcrafted with care in California. Erin's passion for collaboration has expanded the scope of her work — her second fabric yardage collection with Robert Kaufman fabrics debuts in August.
Judit Just is a textile artist raised and born in Barcelona, Spain, but she currently lives in Asheville, North Carolina where she moved in 2013 and where she develops her textile's brand, known by Jujujust. She studied fashion design, sculpture and textile art, where she specialized in weaving and embroidery. She grew up surrounded by textiles and actually learned weaving craftsmanship through her mom when she was little. She takes some old weaving techniques and gives it a twist using vibrant color combinations and a bunch of beautiful vintage threads.
Nadia Binti Nizamudin is a visual artist, working primarily with textile painting, embroidery, and mixed media collage. Her artwork focuses on found, reclaimed or recycled materials and is always represented by bold and bright colors. Both her collage and textile painting carry narratives around loss, relationships and hope.
Laura Garcia Serventi is an Argentinian painter and illustrator based in Brooklyn .
Her work, deeply inspired by her love of the natural world is also related to the memories of her childhood spent in Buenos Aires.
Filled with an exuberant variety of plants, from cacti and succulents to fanned palm trees and orchids in bloom, her paintings are an ode to the botanical world and all its wonders and oddities.
Laura's work is always evolving and ranges from large scaled original paintings to affordable art prints, editorial work and collaborations with fashion brands such as Patrizia Pepe and Charles & Keith. She's launching a collection of silk scarves with her designs in summer 2018.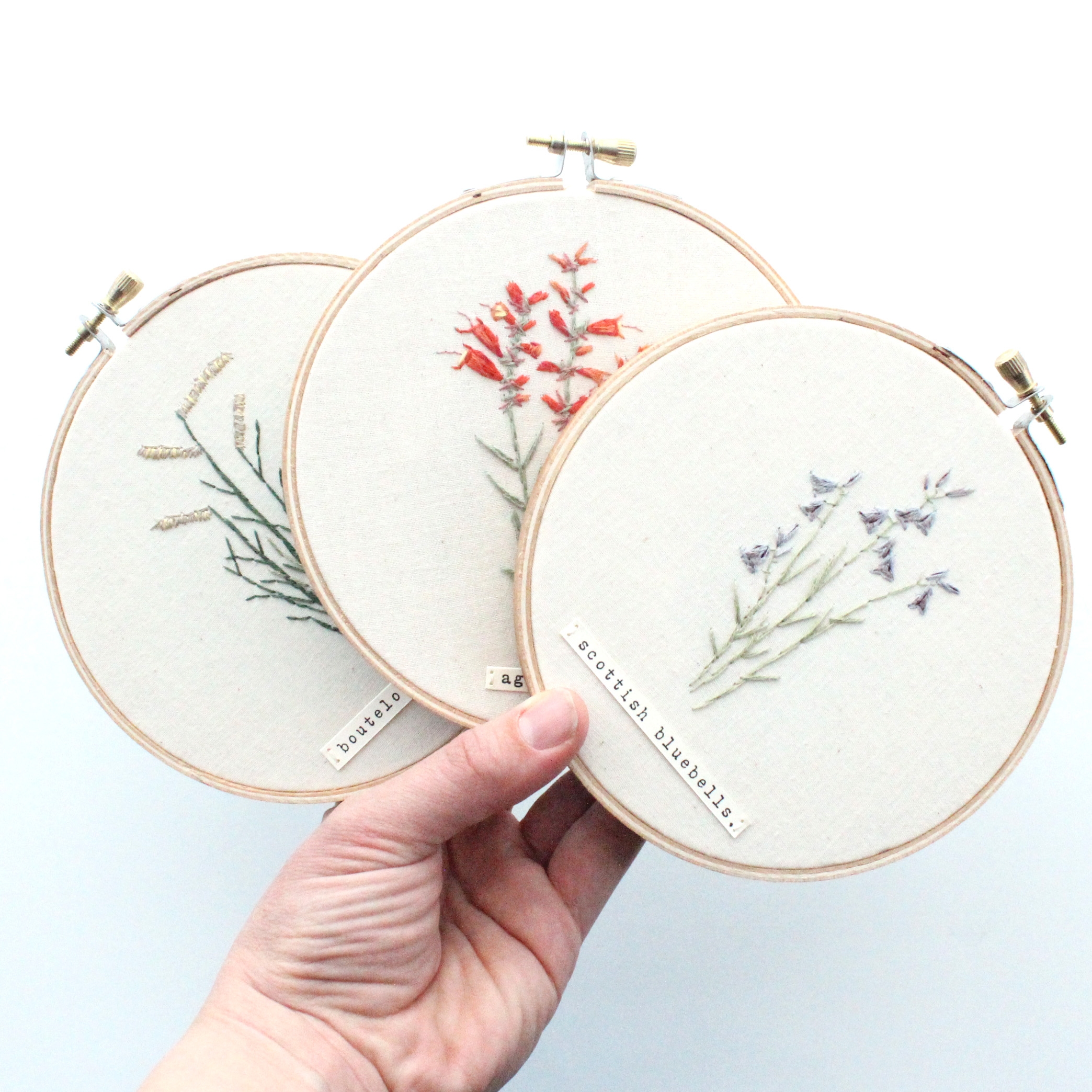 Anna Hultin of Olander Co.
Anna Hultin is a wife, mama and artist living in Loveland, Colorado. After receiving a BFA in drawing from Colorado State University, she continued to pursue drawing, sculpture, and installation. Since becoming a mama her work has taken on a new, more flexible form: needle and thread. Her embroideries are inspired by her land; from the the vast and rugged landscape of Colorado to the intimacy of her own garden.
Adam Pritchett is a hand embroidery artist based in the Lake District, England—his work is focused around mystical, botanical, and entomological themes, mixing traditional hand embroidery techniques with contemporary subjects, and hand dyed textiles.
Serena García Dalla Venezia
Serena García Dalla Venezia's work originates from an interest for handcrafts and is carried out in a patient and laborious process. It uses the sum of gestures that are repeated and prolonged through time in order to transform materials as simple as fabric and thread into large sculptural and pictorial objects that are structured in an a way that's organic and flexible. ....
In her two years at The Royal School of Needlework, Humayrah developed her skills in traditional hand embroidery techniques like Goldwork and Silk Shading and it was here that her love and appreciation for exquisite craftsmanship blossomed. Since graduating, Humayrah proceeded to create an Etsy store (The Olde Sewing Room) displaying age old techniques amalgamated with her growing penchant for Entomology and the natural world.
Maryanne is a fiber obsessed maker from Australia working between Melbourne and Brooklyn, NY. She divides her time between designing and creating woven wall hangings, developing weaving kits, and teaching sold out workshops across the world. Maryanne is best known for applying unexpected color combinations to her nostalgic designs. She is inspired by the intricacies of vintage textiles, traditional costuming, modern art, and the natural world. Maryanne's work has been featured in New York Magazine, ELLE Decoration UK, Anthology, O Magazine, Grazia, Interwoven, and online on Design*Sponge and The Design Files. A finalist in the Martha Stewart American Made Awards in both 2014 and 2015, she sells her work on Etsy and through online shops and boutiques around the country.
Meghan Bogden Shimek is a fiber artist living and working in Oakland, California. Meghan is inspired by loss, movement, healing and the acknowledgment of uncomfortable feelings. She uses organic movements to intertwine raw fibers to create abstract and textural wall hangings and sculptural objects....
Hello Tangle is made up of sisters Bibi and Veronica. Bibi has a background in Illustration, and Veronica in Finance, but they have both had a passion for all things crafty their whole lives, driven mainly by their Mum who is an expert quilter and knitter. They have worked in many mediums, but feel they have found their groove with their current obsession – what they call freeform beading and embroidery.
Nicole O'Loughlin is a mutli-disciplinary artist, self taught in embroidery. She is a printmaker by trade but turned to embroidery as an easy 'pick up and put down' art form after the birth of her son. Nicole's embroidery work combines pop culture with religious iconography and kitsch embellishment to create witty works that address the role of worship and gender roles in society.
Jen Hewett is a printmaker, surface designer, textile artist and teacher. A lifelong Californian, Jen combines her love of loud prints and saturated colors with the textures and light of the California landscapes to create highly-tactile, visually-layered, printed textiles.
She is the author of Print, Pattern Sew: Block-Printing Basics + Simple Sewing Projects, and has recently collaborated with Cotton + Steel on a line of fabric.
Sammy Dudley is an embroidery artist based in Camberwell, London. After recently graduating from Kingston School of Art, she has continued her practice from her bedroom studio, surrounded by plants and thread. Her current series of pink themed embroideries draws inspiration from selfie culture, and explores the male gaze within art history by re-appropriating famous paintings and sculptures. She has recently shown a number of these pieces at an exhibition organised by Hewing Wittare, whilst also running embroidery workshops.
Dee Monti is the founder and designer of the geometric glassware brand MONTI which she launched in 2015. She is a self-taught glass artist who designs and makes all pieces by hand in her London home studio using glass, copper and solder. Dee has been featured in various publications and often works with private clients to create bespoke pieces. Her current collection is a selection of geometric multi-functional shapes which bring simple geometric design and nature together with the encouragement to be creative with your choice of shapes and how you adapt them to your personal surroundings.
Alexandra Knie is a German multidisciplinary artist and university lecturer with a degree in Fine Arts, currently living and working in Valencia (Spain) where she most recently has been awarded an Artistic Research Fellowship from the Consorci de Museus de la Comunitat Valenciana. Her special interest is the artistic investigation of the intersection of
art and science.
Trini is a multidisciplinary artist from Chile. From large scale murals to embroidery, her work is a continuous exploration that seeks to push the limits of her own possibilities and interests, using bold colors and intricate textures. Over the last years she has been focusing on fiber art, something that has always called her attention and that she now shares through her project Cosío, Bordao, Tejío (that means sewn, embroidered and knitted in Chilean). She also shares her personal experience about creativity through teaching embroidery classes and in her book The Embroidery Revolution.
Lauren Singleton of Yes Stitch Yes
Lauren Singleton is an embroidery artist living and stitching in Brooklyn, New York. Lauren's venture into embroidery initially started as an act of self-care with one solid rule "don't make anything you wouldn't hang in your own home" and turned into the business Yes Stitch Yes. Lauren currently focuses on floral work and whatever phrase is running through her mind.
Pauline Hagan of Benu Made
Benu Made is a jewellery brand combining bold shapes and beautiful leather textures. All jewellery pieces are drawn, designed and skilfully created by Pauline Hagan in her studio in Prague, in the Czech Republic. She's self-taught, and her vision is to create bold, eye-catching conversation pieces that bring personality and twist to the simplest of outfits.
Irem Yazici is a self taught fiber artist based in Eskisehir Turkey. Her artistic journey began in 2014 with her interest in craft and she has kept exploring her artistic-self through the medium of embroidery.
Her studio practice is divided into two parts: Making embroidered accessories such as pins and creating personal artworks. Her work is a combination of her illustration and embroidery practices, where she explores through color and texture. She creates worlds out of her surreal visions where magical things happen.
Tinycup is the moniker of Britt Hutchinson (a person not a brand) who creates one of a kind, free hand embroidery pieces meant to reflect the myriad of feels connected to one's humanness.
Chloe Amy Avery is a London based artist with a Masters Degree in surface textiles for fashion. Chloe hand embroiders large scale, intricately detailed art-work as well as wearable pieces. Her style is hyper-realistic impressionism, using food and nostalgia as the inspiration for her work. Food carries memory and culture. It tells our stories. At first glance Chloe's work could be mistaken for paint. But the atypical medium and texture of thread forces the viewer to question what they see.
Patricia Larocque of Ffembroidery

Patricia Larocque is a Canadian embroidery artists currently struggling in Lyon, France. She works from her home studio which is really just her kitchen table let's be real. She currently enjoys creating anxiety ridden patches that are close to life representations of herself and her daily life. She enjoys being her own boss and hopes that one day she'll be about to quit her day job.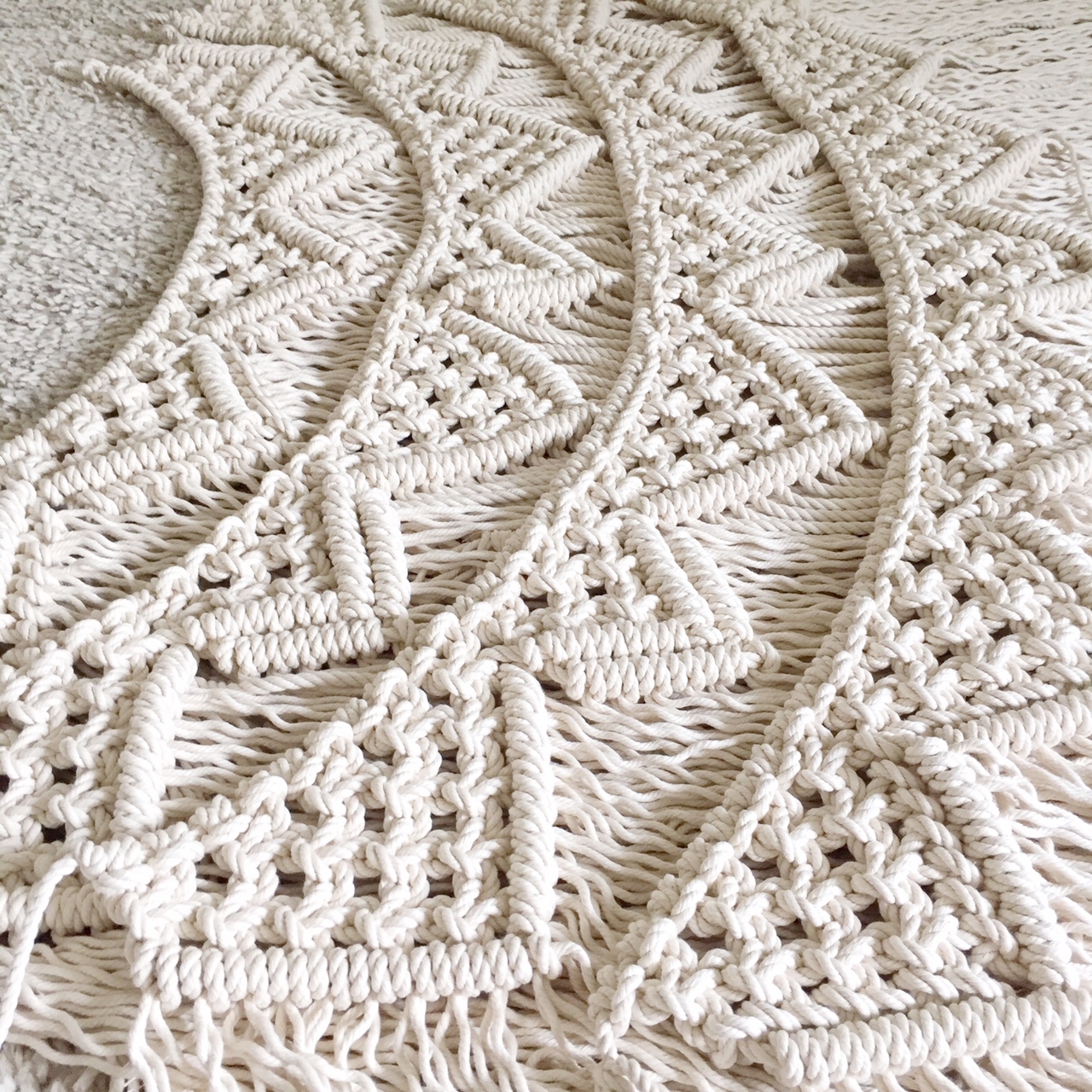 Elsie Goodwin is a Fiber Artist, Wife and Mother to two girls. Her focus is on Macrame, but she has a strong background in Knitting and Crochet and has most recently taken up Floor Loom Weaving and Punch Needle; yes, tell her your craft involves fiber and she is in. She offers Do-it-Yourself Macrame Patterns and Kits as well as teaches workshops and thrives most when she is able to teach others.
Liz Payne is an artist from Sydney, Australia. With a background in the visual arts and graphic design, Liz combines this experience with her love of textiles & embroidery to produce work that breaks the stereotypes of embroidery as a medium. Often working on a large scale, Liz's work blends hand painted fabric with thread, beads and sequins whilst she explores colour, shape and pattern, drawing references from an ancient world and bringing it into the today. Liz regularly exhibits her work in Australia and abroad, and has recently collaborated with the iconic fashion label Gorman to produce clothing, homewares & accessories of her vibrant artworks.
Rose Pearlman is an artist and art teacher who focuses on textile design. For the past 6 years she has used the traditional method of rug hooking to make modern abstract compositions in fiber. Always the teacher, Rose loves creating new ways of making things simply, and leads a wide range of workshops in the NYC area. In 2014, she invented the craft tool the "Loome", a hand-held fiber tool that combines weaving, cording, making pom-poms, tassels and friendship bracelets. Her self published craft book, 'Tied with String' is an exploration of similar DIY projects and ideas. Her book, along with her OAK Rug Hooking Kits are sold at Purl Soho in NYC. She currently lives in Brooklyn with her husband and two children and an impressive closet full of rug yarn.
Breaking the traditional boundaries of craft, Stewart Francis Easton's work fuses together hand embroidery, sonic art and design based illustration. For Easton's latest works he has been removing the 'storyline' of a visual narrative by creating geometric / graphic forms in stitch. This reassembling of his work ethic in a conscious measured layout enables the viewer to be free of their preconceptions of story. Using a process of abstract minimal stitch he is enabling himself to create a visual reference to an ever changing pathway and reaching for a utopian form. Easton's stitch work blurs the lines between craft, illustration and fine art making his work dynamic and progressive and a must see. Stewart Francis Easton is a visual storyteller based in London who works in thread, ink, paint and digital media.
Olga Prinku is a designer and maker behind prinku.com, originally a handmade wool goods business. She has a background in graphic design, but has always had a strong connection to traditional craft. More recently she's started experimenting with floral art by creating floral designs with real dry flowers on tulle, a technique she developed while styling photos for Instagram that looks like a cross between embroidery and wreath making.
Arounna Khounnoraj of Bookhou
Arounna is a fibre artist living in Toronto. She also runs bookhou, a multidisciplinary studio that focuses on screen printing in the making of a variety of goods including bags and home decor items using natural materials. She also works with her husband John Booth in designing and making wood furniture and accessories.
Katherine Entis of Soft Century
Katherine Entis is a designer, fiber artist and founder of Soft Century out of Portland, Oregon. Influenced by memories of touch and sight Katherine's work acts as studies of material, color, and composition. Drawing from landscapes both real and imagined, her recent series of knit paintings are an exploration of color and texture that come together as a collection to tell a larger story.
Lacy Van Court of Die Trying, TX
Die Trying TX, headquartered in Austin, was founded by Lacy Van Court. Lacy comes from a dusty, long line of West Texas misfits and ranchers that have been in Texas just about as long as Texas has been around. Growing up she spent the summers on her Grandparents' ranch; where her Grandmother Billie, a Texas landscape painter, inspired a love of making things with her hands by teaching Lacy, among many other things, how to sew and paint. Lacy later went on to earn a BFA in painting from the The Maryland Institute College of Art. Her family history, those early summers, and her home state have always been at the heart of her work as an artist.
After working in a variety of creative fields and mediums, she was drawn to the art of chainstitch by its combination of craft, its deep roots in western American culture, and as a way to continue to express the themes important to her work. Using the same hand operated machines that were used to create traditional western wear, Die Trying TX offers a line of one of a kind pieces meant to be collected, loved and lived in.
Caitlin Cass makes comics, drawings and counterfeit historical exhibits that folklorize historic failures and foretell grim futures. Often working under the moniker, The Great Moments in Western Civilization Cooperative, she questions the authority of traditional historical narratives by co-opting their power for her own devices. Caitlin draws and publishes a bimonthly comic periodical called The Great Moments in Western Civilization Postal Constituent. Her comics have also appeared in The Public and The Chicago Reader and online at The Nib. She has exhibited her drawings and counterfeit history exhibits nationally and internationally. Recent counterfeit historical exhibits include How to Fly in America (at Hallwalls Contemporary Art Center) and The Museum of Failure (which she has shown in Buffalo, Rochester and Washington, DC.) Caitlin lives and works in Buffalo, NY and teaches Art at Buffalo Seminary.
Julie is a painter and pattern designer living in San Diego, California. Her work focuses on bold floral arrangements full of color and expressive brush strokes. She shares her passion for art through acrylic workshops, and through creating paintings and patterns that bring joyful color into your home.
Cindy Zell is a multidisciplinary artist based in Los Angeles. Her latest collection of large-scale fiber work features material-driven sculptures that explore gravity's influence on form. Individual pieces serve as studies on curves, drape, weight, and movement, reinterpreting traditional techniques in rope-making. She also has a line of wall hangings and accessories called WKNDLA, which focuses on individually crafted brass pieces handmade with sustainability in mind.
Tasha Lewis is a mixed-media sculptor with a wide ranging artistic practice that includes global collaborative street-art, book design, self-publishing, illustration based on literature, and a variety of hand-sewn sculptures. Lewis works with cyanotype, a historic photographic process also known as blueprints or sun prints, as well as found and dyed textiles. Her studio-work has recently begun to focus on the human figure through the lens of Classical Greek statues. She embellishes the surfaces of these sculptures with embroidery and beading seeking to evoke a "sea-change" of lost artifacts transformed by ocean-life. Lewis has forthcoming solo exhibitions at The Philadelphia Magic Gardens (September 2017) and the Parthenon Museum in Nashville, TN (January 2020). Signed first-edition copies of her book "Swarm the World" are available on Kickstarter now through November 19, 2017.
Sara Barnes / Brown Paper Bag
Sara Barnes is an embroiderer and freelance writer specializing in illustration, art, and craft. She has her MFA in Illustration Practice and is obsessed with finding the latest and greatest in the field, which she shares through her blog, Brown Paper Bag.
Laura is a visual artist living and working in Chicago. Featuring figurative imagery and dreamlike, minimalistic environments, her current work is centered around themes of self understanding, interconnectedness, and our collective search for meaning. She has exhibited her paintings around the US and abroad, and also does editorial illustration work, murals, ceramic sculpture, and animation.
Rachel Edler, owner of Noble Kinfolk is a textile artist from Bristol currently residing in the bright lights of Berlin. She creates her textile works by using the technique, free motion embroidery. It was a technique she discovered whilst studying textiles in college when she was 17, and something she has done ever since. However, it was only when she moved to Berlin that it began to turn into something more than a hobby. Her passion for hoarding bright and colourful fabrics injects a flash of vibrance in her portraits, which are mostly of women in contemplative states, an ode to the busyness of life as a modern day woman, being pulled in different directions. Her favourite pieces to create are her commissioned portraits of people, she loves trying to capture people's individual characteristics in stitch.
Tara is a paper artist whose delicate and intricate miniature paper plant artworks explore interior spaces and the plant owners themselves. Born in Zimbabwe in 1984, Tara spent her early childhood in Zambia before moving to Australia. She now lives in Vancouver, Canada, with her husband and two cats (and many plants). Over the last two years Tara has built a thriving art practice and business and creates artworks for clients from all over the world. In addition, she works with select brands to create custom work for their projects including Urban Outfitters, The Land of Nod and last year she lent her paper engineering skills to a commercial for Tide.
Zemer Peled's work examines the beauty and brutality of the natural world. Her sculptural language is formed by her surrounding landscapes and nature, and engages with themes of memories, identity, and place. The association of porcelain with grace, refinement and civilization gets turned on itself when it is broken down into shards and the brutality of its jagged edges is juxtaposed with its insistent fragility. The material becomes both violent and beautiful, hard but breakable. When seen in the organic formations of Peled's structures, a whole for the shards is recreated, this time estranged from its original context of neatness, tradition and cultivation but nonetheless unified by an overall cohesiveness of movement and composition.
Defne Güntürkün is a textile design professional. She received her bachelor's and master of arts degrees at Mimar Sinan University of Fine Arts in Istanbul. Aside from her professional activities in designing fabric patterns as a freelancer, she has taught herself how to embroider in the past few years. This led to a leap forward in her pursuit of art and creation. Her long–term practical experience in mostly nature–inspired fabric design is reflected in her embroideries. She recently started a small business through her website where she makes her embroideries available for purchase. She has an arts studio in a historic district in downtown Istanbul, where she spends most of her time doing what she loves.
London based French painter Marine Edith Crosta is best known for her miniature tondi depicting stormy seascapes. More than just another nautical themed painting, her Lost at Sea series addresses the notions of intimacy and introspection, enhanced by the small format and the locket like frame. A feeling also conveyed through her Wanderer paintings, gazing at the ocean, and more recently through her portraits, where the subject depicted from behind looks away from the viewer, creating a level of mystery and privacy unexpected in portraiture.
Katy Biele is a Chilean Embroidery artist living in Victoria BC in Canada. The style she's developed is based on her South American background and everything that she has taken in while traveling. The result is a combination of textures, a lot of bright colors and a wide variety of stitching and painting techniques.
Libby Williams is a painter and embroidery artist currently based in Luxembourg City. She moved from Tulsa, Oklahoma in 2016 to Luxembourg, where she now divides her time between making art, teaching English, and travelling as much as possible. In her work, she shifts back and forth between abstraction and representation, working with paint and embroidery, often combining the two. Her work explores the potential of color and shape to create expansive and beautifully complex spaces.
Laura is an illustrator living in the Sant Antoni neighborhood of Barcelona. She studied fine art, specializing in painting as well as interior and graphic design. After 4 years of working in an architectural study program, she decided to leave it all to draw. Her romantic lines evoke past times as her nostalgic imagery speaks towards the present. She is passionate about plants and animals, and it's reflected in her house and her work.
Jocelyn is an artist living and working in Kingston, NY. She created her brand, PetitFelts, in 2011 and since then she has made it her goal to create high quality, unique needle felted pieces. She strives to make animals that spring to life through their expressions and whimsical humor. She puts lots of love into her work and above all else, she hopes that people can sense that when they come across her creations. She crafts each of her pieces by hand dying wool and using a technique called needle felting. The process involves tangling the fibers of wool with a barbed needle in order to create wool sculpture.
Woodlucker is a visual partnership and studio founded by Ann Wood and Dean Lucker after graduating from Minneapolis College of Art and Design. This partnership is based on both individual and collaborative practices. Ann has created artwork in many mediums—eggs shell mosaics, wood sculpture, embroidery, drawing and painting. Currently she is making plants, feathers and butterflies made of handmade paper with wire structures. She came to nature as a subject because it is universal. We pause to look at a flower, pick up a feather, touch a leaf or comment to a companion about a particular specimen. Nature's beauty is fleeting and ever changing in it's magnificence. Ann's artwork speaks to the notion that everything is temporary. Ann works from the real, not to duplicate but interpret nature's splendor. She tries to capture the variety and essence of the real but with the outcome being a heighten reality where the viewers stops to take a second glance.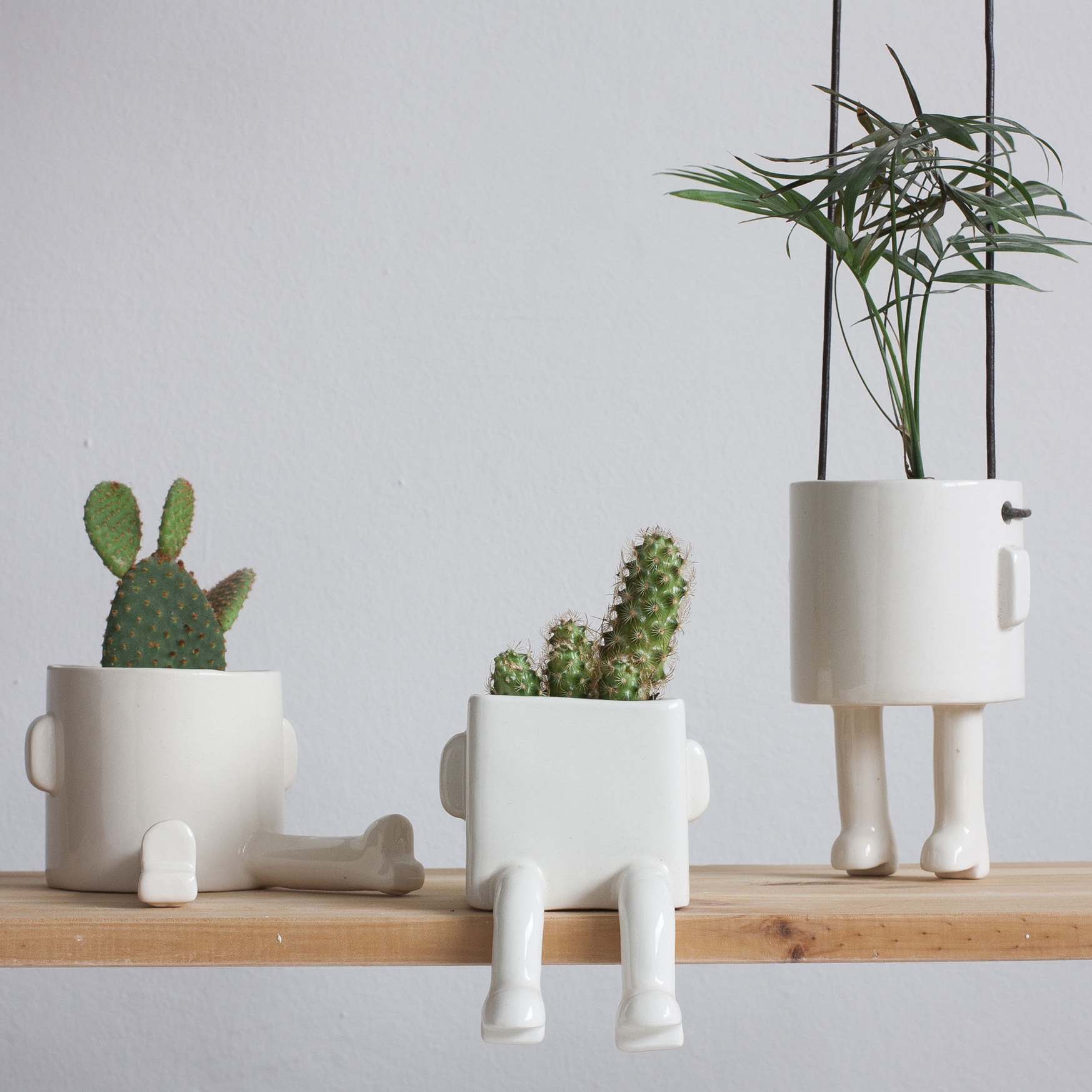 Madriguera workshop is a creative workshops based on Galicia (Spain) that is passionate about design and crafts. The workshop was founded by Lydia de la Piñera and Luis Llamas in 2012, since then have been designing and making unique, artisan and creative pieces. They are makers of objects full of life. The process is entirely done by hand. Some of the pieces are hand-thrown on the throwing wheel in different kinds of clay. Their porcelain pieces are cast in plaster molds.
Teresa graduated from Lasalle College of the Arts with a First Class B.A. Honours in Fashion Design and Textiles. Her personal design philosophy is to fuse three of her interests together: Illustrations, Embroidery and Surface pattern design. Her designs seek to blur the lines and boundaries between being an illustrator and a textile designer. She gets inspired by themes revolving around gender and womanhood.
Raquel Martín is a freelance illustrator and artist from Barcelona, currently based in the beautiful and tiny island of Menorca. Often drawing from imagined scenes and landscapes, her work somehow creates a narrative through a uniquely minimalistic style that isn't only beautiful, but also really fun.
Jane's most in her element when immersed in creating textile art at her studio in Wellington, New Zealand. Her love of color and texture shines through in her contemporary hand-stitched artwork, designed to bring a little bit of happiness to people's homes. Over the past five years Jane's work has struck a chord with art lovers across America, who are looking for their own unique, handcrafted piece of New Zealand.
Lindsay works primarily with watercolor on paper, using color and form to create dreamlike narratives that echo folk and fairy tales that we vaguely remember from childhood. Whimsical and dark characters exist in familiar landscapes, playing out scenes from stories with no beginning, middle or end. And where the moral might be lost, switched, blurred or even just completely missing.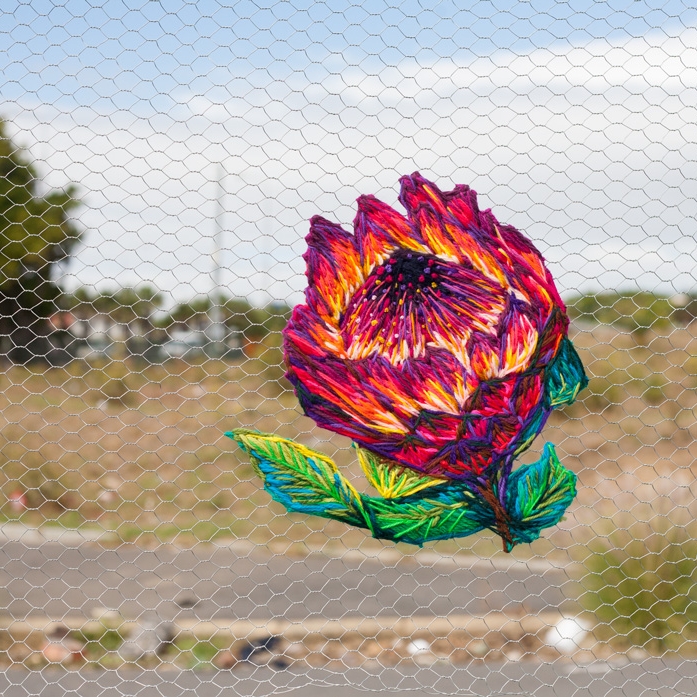 To just call Danielle Clough a fiber artist is a bit of an over simplification. While much of her work consists of embroidery techniques in various forms, she's also established herself as a photographer and designer. Her embroideries are not only interesting for their compositional techniques, but also for the various materials that support her stitching, such as tennis rackets and chainlink fences. Inspired by the Cape Town street art and music scene, Danielle's work truly modernizes a traditional craft to make it something totally unique and her own.
Sara Boccaccini Meadows is a textile designer and illustrator, originally from the north of England. She takes inspiration from nature and the tiny details in her everyday surroundings to create unique and quirky prints and illustrations. She works with a variety of medias including watercolor, gouache, markers and fine line pens and starts her design process by making small studies in her sketchbook or journal.
Nalani Gloor is a fiber artist and interior architect based in New Zealand. She studied Interior Architecture and Design at the Academy of Art in San Francisco, before completing her Bachelor of Design majoring in Interior Architecture at Swinburne University of Technology in Melbourne, Australia. She learnt her macramé practice from her mother and started Knotty Bloom as a side business when she moved to New Zealand. With a mission to create honestly made and lasting products, that strive to embody a sense of comfort, care and visual aesthetics.
Her work explores psychological landscapes, illuminating thoughts left unspoken. she create tiny worlds in thread to capture elusive yet persistent inner voices. Literary snippets, memories, personal mythologies, and art historical references inform the imagery; fused together, these influences explore relationships, domesticity and self-perception. Symbolism and allegory lay bare dynamics of aspiration and limitation, expectation and loss, belonging and alienation, truth and illusion.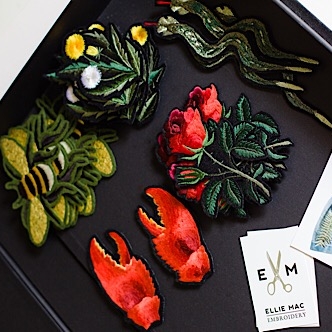 Ellie works predominantly on a vintage freehand embroidery machine, she also trained at Cordwainers, specialising in the pattern cutting and construction of leather accessories. Ellie is currently focusing on producing bespoke embroidered commissions and small limited edition batches. She works collaboratively with other designers and brands while steadily building her own collection of embroidered patches these can be found in Wolf and Gypsy Vintage and online at Ellie Mac Embroidery Shop.
Mar is a paper artist working out of the Gràcia neighborhood of Barcelona, Spain. Meticulously cutting paper into miniature 3-dimensional forms, she creates entire scenes and landscapes that somehow captivate the imagination but fit into the palm of your hand. Her work seamlessly straddles the line between craft and fine art, with reference to film and popular culture, it can be cute and clever, but always delicate and beautiful.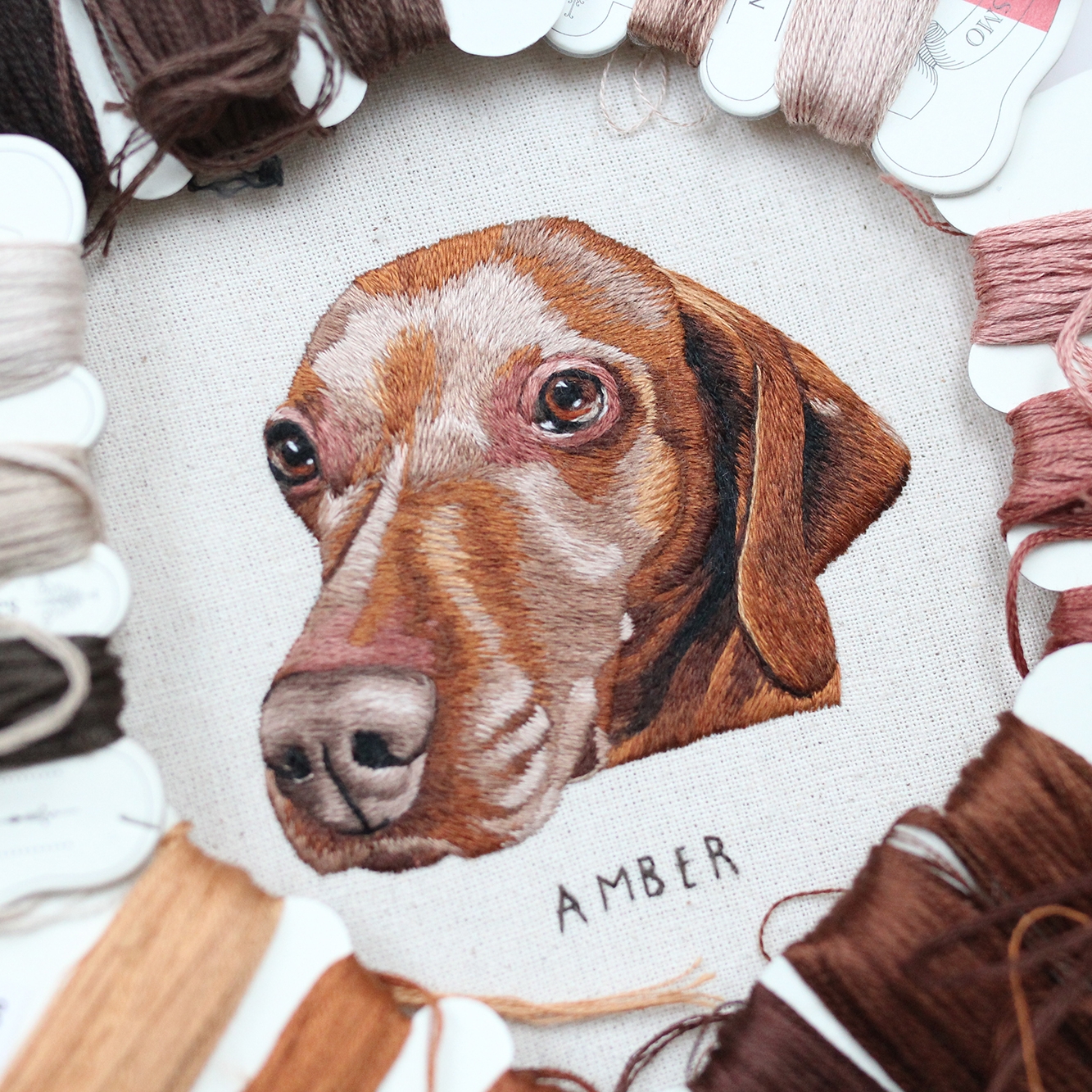 Emillie is a self-taught illustrator based in England. After completing her studies at University in 2015 she pursued a creative career in Embroidery, which she fell in love with during her 2nd year of study. After finding success through the social media platform Instagram, she has been able to embroider an assortment of pet portraits and woodland animals full-time. Emillie hopes to expand her business by embroidering people in the future, hosting workshops & taking part in fairs & exhibitions.
Sarah is a illustrator and textile designer living in the creative hub of the inner northern suburbs of Melbourne. She works mainly with gouache on paper and has been painting for as long as she has been able to hold a brush. Sarah's work focusses on close observation of the everyday stuff around her. Lush colour give her paintings an otherworldly feeling, that seeks to draw the viewer in, so they can calmly observe as well.
Allyson's work explores the relationship between traditional methods and contemporary design. With each piece, and each new idea, her goal is to express a simple concept of good design by breaking down the design elements; color, shape, texture, space, and form. With this process, she is creating work to push beyond the realm of traditional craft making, with the ultimate goal of contributing a unique and lasting perspective in contemporary Fibre Arts.
Tessa is a fiber artist based out of Asbury Park, NJ. Using vibrant colors and expressive stitching her work seamlessly crosses back and forth between fine art, craft, and fashion. Often working from observation, Tessa reinvigorates an old world craft with rustic iconography, floral patterns, and plant design into something unique and modern.
After graduating from Savannah College of Art and Design with an Illustration major / painting minor, she started her first job with Carter's/Osh-Gosh kids clothing as a technical/creative artist in Atlanta. After 4 years, she gave in to wanderlust and moved to San Diego and found her place with Free People in visual display/creative merchandising. She was able to work with URBN Inc. where she learned the value of compelling creativity in a brand. Constant soul searching started to eat away at her and she jumped. Jenny has grown Living Pattern as a way to connect herself and her audience to the still delicateness of nature and to themselves. For her, it is a learning process that changes day by day.
The Crafter's Box delivers hands-on workshops in collaboration with experienced artists to makers all over the world. The Crafter's Box pairs monthly online workshops with a thoughtfully sourced box of tools & materials shipped to makers so they can learn more about and dive right into crafting techniques such as block printing, embroidery, weaving, leather working and ceramics.
Bodil Jane is an illustrator from Amsterdam, the Netherlands. She graduated with honors from Willem de Kooning Academy in Rotterdam, specializing in illustration (2014). Bodil Jane loves to illustrate food, recipes, animals, fashion, interiors, plants, packaging and maps. All of her illustrations include hand made elements and digital techniques. Bodil Jane's clients include Wrap Magazine, Red Cap Cards, Unicef, Chronicle Books, and Marks & Spencer, among many others. She is represented by the London based illustration agency Folio Art.
Brannon Addison an artist that specializes in hand embroidery. While pursuing a career in education and nonprofit communications, she turned to drawing and painting as a creative outlet, which resulted in the launch of a stationery line in 2011. Following an ankle injury in 2014, she taught herself how to embroider and fell in love with needlework. Brannon releases monthly collections of her framed embroidery and has extended her work into pillows, pins, and clothing as well.
My inspiration for the Craft with conscience series:
'Craft With Conscience' began in early 2016 as a weekly Instagram series dedicated to sharing the work of other creatives and as a platform to openly discuss certain aspects of ethical art-making and consuming in the age of the internet and social media.
This series arose out of my own frustrations related to seeing my work constantly copied stitch-for-stitch, sold without permission, and credited to other people. Rather than wallowing in unproductive negative emotions, I wanted to find a way to bring this common issue to light in a positive way. My solution was to share the work of artists, crafters, designers, and makers who I greatly admire for their originality and dedication. Initially, I shared work similar in materials or subject matter to my own, having heard the argument, "There are only so many ways to stitch plants, I'm not copying you..." one too many times. The truth is, no matter what the medium or subject, every artist from hobby crafter to professional painter has their own perspective and voice. It takes effort to develop one's visual vocabulary and it can be disheartening when your's is taken and misused by other individuals and sometimes larger companies.
All that being said, now is an incredible time for working artists because of the vast resources of the internet including sources of inspiration, the ability to reach a large and global audience, and as a community building tool. As you may know, I love sharing my work on Instagram and following other makers. It's a wonderful way to connect with other artists, be inspired, and feel supported, but we all need to be aware of how we use these resources and what effect it may have on others.
Since the start of 2016, 'Craft With Conscience' has grown and evolved just like any other creative pursuit and has recently expanded to include short interviews with featured artists. I've asked participating artists a series of questions about their studio process, sources of inspiration, and how image-sharing sites like Instagram and Pinterest influence and affect them. I hope you read on to see what they have to say!
-skb
craft with conscience submissions:
Do you think you are a good fit for the Craft With Conscience interview series? If so, please fill out the form below. I can't wait to learn more about your work!
*Please note that submitting this form does not guarantee a feature. Thank you.